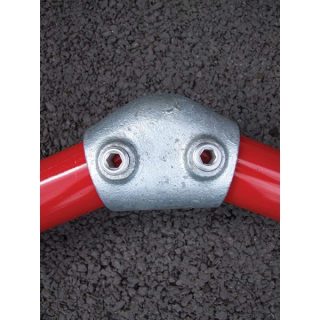 VARIABLE ANGLE CONNECTOR - KEY CLAMP 224
£3.31 – £5.44 Inc VAT.
A Key clamp 224 - variable angle connector that provides an angle of between 110° and 180°. The Key clamp 224 - variable angle connector is ideally suited for use between the vertical end post and sloping top rail on the Key clamp handrail system.
Free delivery on orders over £50
Please be advised, any order under £50 is subject to a carriage charge of £7.20. We strive to keep this charge to a minimum but is unavoidable due to the weight and volume of the fittings and tubes.
To avoid carriage charges, click and collect is available if selected at checkout
Whatever your purpose, the information provided on this website should enable you to easily determine which Key clamp fitting suits your needs. The information and guidelines provided here are given only as guidance. The ultimate responsibility for selecting the correct fitting and size for any application is that of the user. The user must also ensure that any structure is of sufficient strength to support the weight of the Key clamp fittings and tube in addition to any applied load.
If you need any further technical support or assistance regarding the use and interpretation of this information then please do not hesitate to contact us.
For all other Pipeline queries, please visit www.pipelinecentre.co.uk
Additional information
| | |
| --- | --- |
| Diameter | 34mm, 42mm, 48mm |
| Angle | 15-60° |
| Fixture | Slope |
Any Questions? Contact Us!